The Consume Memory Depot
"A moment on the lips. A month on the hips"

Applies to Consume more then any other convention.
To that end, we have decided to offer the following fabulous low-calorie useful keepsakes . Think of us the next time you are making dinner, while wearing your ultra-fashionable ($20.00 forrest green with white ink) or buying far too many books to fill your wonderful ($15.00 natural with green ink) at the next huckster room you visit.
SPECIAL DEAL!!!!!!!! Pre-register and get $5.00 off each item, and $5.00 off registration too!!!!

Remember Rule of Aquisition Number 251:
Never Pay Full Price for Anything!
| | |
| --- | --- |
| | |
| The Ultra Fashionable Apron | The Wonderful Consume Tote bag |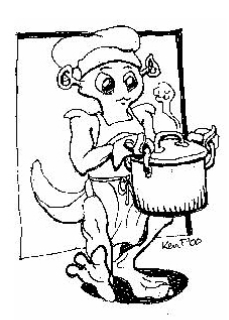 Artwork for Apron and Tote bag Provided by the Famous Ken Fletch